For the Caregivers and Families You Serve
For Whomever the Person Calls "Family" and Anyone Providing Direct Care
Features:
30 videos, 2-4 minutes each
Branded to your organization
Teaching guides for your professionals to use with caregivers/families
For local and distance family members
Cut costs of extensive, expensive printed materials
Topics include:
The importance of Advance Directives
Adjusting Care to Changing Needs
Relationships (and Conflict)
Grief (more than just "Anticipatory")
Caregiver Stress
Children and Teens
Veterans
Distance Family Needs
More …
Bundle this with any or all of our 3 video libraries
Family Support Through Serious Illness
Hospice Training for Caregivers & Family Members

Optional Add-On Spanish Version

Want to Understand Your Grief?
Composing Life's Family Support Through Serious Illness videos help tend the caregiver and family's needs through serious illness, palliative care, and hospice care. Our Hospice Training library is more specific to hospice care, for tending the patient's needs.

Our Want to Understand Your Grief? videos apply to all grief experiences. They gently update the outdated, too often misused "Stages of Grief" with evidence based, contemporary grief research and clinical practice.
For Your Professionals and Volunteers
Prepare your teams and volunteers to use the "Family Support Through Serious Illness" library with our "Empathy for Hospice Professionals" video and reflection questions
Use our "Empathy for Hospice Professionals" as a stand-alone training, either on-line self-learning or as a group activity for orientation, staff/team meetings, and more
Engage Dr. Joy Berger for live, interactive teaching with your professionals, volunteers, leaders, and/or community
Conferences, workshops, webcam-webinars, 1:1
Specialties include empathy, communication, Emotional Intelligence, professional/personal self-care, grief care
Newest topic: The Patient's Experience & Your Technology – Does It Help or Hurt?
For the creative: Composing Life: Music Metaphors for Compassionate Care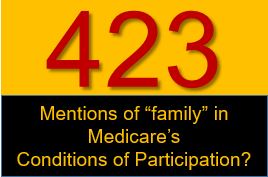 Do You Know?
The Hospice Conditions of Participation (CoPs) name the "family" 423 times! And, these refer to the "family"–as the patient defines "family"–not just to the primary caregiver.
These same Hospice CoPs name the "caregiver" another 125 times, for cases in which the primary caregiver is not considered "family" (like with a paid caregiver).
Examining Your CoPs, CAHPS, and Caregiver Gaps
Caregiver/Family Grief Support: More than Just "Anticipatory"
Empathy: Assumptions? Or Assessments and Accountability?
Hospice Compare for Leaders
Hospice Compare for Teams
Tending Distance Caregiver Needs
More … what do you need?
For Individuals Seeking Resources or Consult
Your Care Team Never Interacts With Some Key Family Members?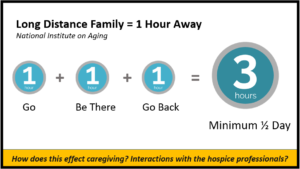 The National Institute for Aging defines "long distance family" as living only 1 hour away.
Think about it. Most adult sons and daughters under age 65 work during your Care Teams' visits.
Even if schedules flow like clockwork, it takes …
1 hour to get there.
Another hour to be there.
Another hour to get back.
For example, many sons and daughters cannot afford the time or money to get there during the day. Often, they visit their parent in the evening or weekend to relieve the primary caregiver. What timely, easy to access, cost-effective resources are you providing for them, & other family members? This adult child may not be the primary caregiver, but they are still coping with the serious illness–and perhaps hospice care–of their parent. They too, have questions. Fears. Hopes. They too, need and deserve your support.
What about core family members who live hours away? A full day's travel?
Caregiver Videos: Ask about our Across the Miles set of videos, in Composing Life's Family Support Through Serious Illness video library.
Teaching: Ask about Joy's session, Building Bridges With Distance Families (ready-to-roll for your Continuing Education sessions)
Consult and Coaching: Ask about Composing Life's leadership consult and coaching to improve your systems for teams to communicate better with distance caregivers and family members.