Do you want privacy?
Many people prefer to deal with their grief in solitude and privacy. This is called an "instrumental style"* of grieving.
For you, explore our Portal for Grief Care's rich, supportive, personalized, meaningful learning for you. You can tend your needs in a logical, sequential manner, or with a more spontaneous use-what-you-need-in-the-moment.
Visit our Portal for Grief Care Catalog and find what speaks to you. Your time. Your space. Your pace.
Purchase in easy-to-use, affordable sections as you are ready, or "Bundle" all with our 50% discount, one year subscription, with 24/7 access. All you need is the Internet and your laptop, tablet/iPad, or smartphone.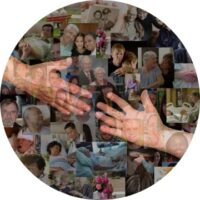 Do you want people?
Many people prefer to talk about their loss and grief; to express feelings and receive personal support. This is called an "intuitive style"* of grieving.
For you, we provide real-time Support Group Zoom Sessions and optional in-your-own-time Discussion forums (paired with Portal Learning Content). These are led by Dr. Joy Berger or another qualified grief professional.
Go to our Portal for Grief Care Catalog and find "Support Group Zoom Meetings," or purchase any other content and use its optional "Discussion" chat feature.
Dr. Joy Berger is the author of all Composing Life Out of Life content. For more information about Joy, visit About, Book, and LinkedIn.
* The terms "intuitive" and "instrumental" grief were identified by Kenneth Doka and Terry Martin. Grieving Beyond Gender: Understanding the Ways Men and Women Mourn, revised edition, published by Routledge. All content from Composing Life Out of Loss is grounded in contemporary grief research and best clinical practices. Additionally, our Portal for Grief Care uses state-of-the-art technology, designed for user-friendly support in our pandemic/post-pandemic world. For more about Dr. Joy Berger's history from-before-and-for-now, visit our About page.